The RAOB Program
The RAOB Program can produce the popular SkewT-LogP diagram in nearly any scale combination desired by the user, including heights up to the 0.001 mb level. Below is a Skew-T diagram example.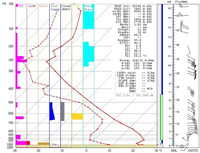 In addition to the SkewT diagram, the RAOB program can produce Emagrams and Tephigrams. Users can also change the color of any lines, including adding higher density line intervals for greater detail.
The RAOB program is the world's most advanced and user-friendly sounding analysis and forecast program available. The program of choice for aviation, government, military, business, research, academic, media, and private meteorologists & hobbyists in over 90 countries. See other RAOB example diagrams.
The foundation of the RAOB program comes from this core US Air Force source document: AWS/TR-79/006 Revised. It is the basis of RAOB's rudimentary functionality. The complete compilation of the RAOB program's functionality and thermodynamic applications are detailed in the the illustrated User Guide & Technical Manual, available from Eosonde Research Services (ERS).
-------------------
Return to SkewT Home Page